What is and how to appear in Google Answer Box?
*All sites listed below belong to @Kickante.com.br – the biggest Brazilian crowdfunding platform
Google answer box is a highlighted zero position on the top of Google results page, just below the search box. These answers, also called quick answer, are short and easy to be interpreted by users. They can find directly what they are searching on Google.
Quick answer is chosen by the first five websites listed on the search. In addition, this belongs to relevant sites which Google trusts that will provide the right answer for users. This zero position appears more often in "what is" or "how to" queries.
This kind of result appears into a highlighted box on the page and is located just below the paid results (ads – if it has one) and above of all organic results. You can find the quick answer on devices as mobile, tablet and desktop.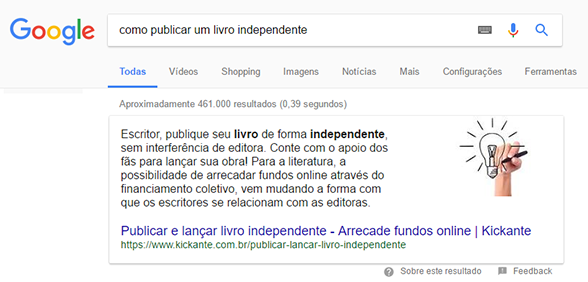 Depending on the type of zero position shown in this article, the click-through rate raises up and brings on a huge traffic for the site.
In another well-known case, Adobe reported that the traffic has increased 17% in results on Google answer box, that means millions of sessions.
It is important to remember that with these boxes, the website takes two positions on the first page. The position zero with a highlighted box and a normal Google result between positions 1 to 5.
Check out the website below meufinanciamentocoletivo.com.br with two results on the same page: zero position (Google answer box) and in the second position (normal result) after kickante.com.br:
Otherwise, on mobile, the answer box takes almost 80% of the page. To see all the results it is necessary to scroll down the page. That's why the mobile click-through rate can increase by 50% over the desktop click-through rate. See below:
Google Answer Box types
There are 3 types of Google answer box: paragraph, list and table. And they can vary with or without images depending on the structure of the landing page. Definitely, boxes with images generate higher click-through rate than without images.
Paragraph

List


Table


How to optimize your website for Google Answer Box:
Optimize the landing page with the keyword that has to be shown up in position zero. Use the Google Keyword Planner to find the most relevant keyword for your business;
The website must already have a good traffic;
An accurate response to the query;
Put the answer right on the top of the page so Google can find it easier;
Get backlinks to the page you want to show on the Quick Answer. That way, the Google will understand that the website is relevant to the keyword searched;
The website needs to be between the position 1 to 5 on the Google results page.
Facebook Comments